Retail
BKS Leather retail shop is where pre made suits can be viewed.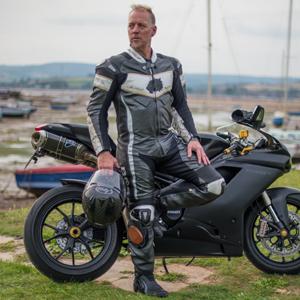 This is a traditional single zip suit which demonstrates how all BKS suits begin. It has the essential stretch Kevlar inserts at the arm, back of leg, groin and neckline to provide comfort whilst close fitting. Accordion leather stretch panels are fitted above the knee and behind the waist. The lining is detachable and Knox Flexiform protectors are fitted as standard.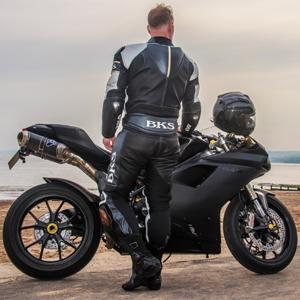 The Evolution Collection allows for all final designs to be made as a one piece or as a two piece zip together suit. In turn, the jacket or the trouser may be commissioned independently in any configuration. Separate jackets and trousers have their own identity. Still referred to as a BKS 100, trousers come in the form of 'Sport' legs or 'Racing' legs.
Separate Jackets have their own identity and there are essentially 3 different types. All jackets benefit from the full array of specification, lining and trim options.
Still referred to as a BKS 100, trousers come in the form of 'Sport' legs or 'Racing' legs. (A custom style straight leg jean - like denims - are requested from time to time, lets include these too).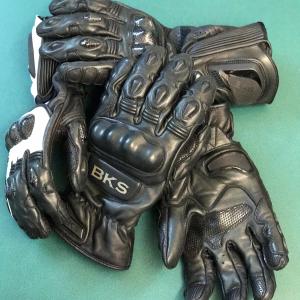 BKS offers 3 styles of glove. There are two short cuff models -  a Summer glove (BKS 001 priced at £129) made with perforated leather, hard knuckle protection and OUTLAST lining, then a Winter version of the same glove (BKS 002 pirced at £149.). This one has a waterproof membrane, no perforations but is otherwsie identical. The BKS 003 (priced at £159) is a long cuff Sport/Race version of the Summer BKS 001 glove and has Carbon protection added too.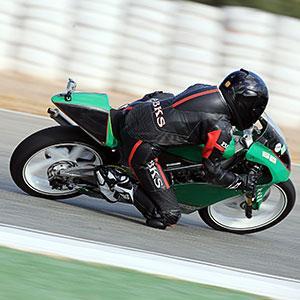 Ladies suits follow in exactly the same way as men's but the tailoring is naturally sympathetic to the ladies body shape and is dealt with accordingly at the measuring stage and fitting. Extra seams are used in the bust when necessary.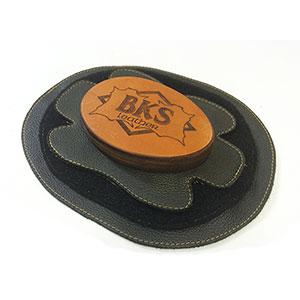 BKS can offer a wide range of accessories for all your needs ranigng from Gloves, Knee sliders, Impact protection for limbs and backs, base layers to keep out the cold, wind stoppers, care kits for your leather, suit linings and suit cover and hanger sets. Whatever you need to keep you on the road BKS Leather has it.